van den Hul - The Wave Interconnect (RCA-RCA)
The WAVE is a coaxial, triple shielded interconnect designed to simply outperform its price class with superior qualities.
The WAVE's finely balanced design and materials inside comprise more than 25 years of experience and material knowledge, resulting into impeccable transmission quality. 
Another strong aspect of The WAVE is that its high natural bandwidth and excellent noise rejection properties make it applicable many listening rooms. 
The WAVE is ideal for use as an audio interconnect in wiring your home theatre setup, in going from CD or DVD player to amplifier or in any other hi-fi line level wiring application.

Due to the fact that it's also a highly accurate 75 Ohm cable, The WAVE is equally perfect in AV applications like antenna/cable TV, video, surround and S/PDIF digital audio connections.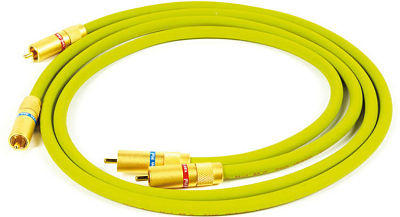 The WAVE features:
A robust and massive 0.9 mm Ø central conductor made of dense silver coated, high purity, matched crystal oxygen free copper provides optimal signal transparency and fidelity.





A specially foamed dielectric insulation material minimizes high frequency signal attenuation.





Not less than three shielding layers: With the outer and inner layer made of the same high quality conductor material as the central conductor, this unique combination achieves first-rate interference suppression and highly linear conductance.




Often overlooked is the fact that a coaxial cable shield needs to both carry the return signal as well as to keep noise out. The WAVE's triple shield design separates these functions, yielding great gain in performance.




Its HULLIFLEX ® cable jacket provides maximum ruggedness and optimal lifespan protection.



All materials are environmentally friendly and contain no halogens.




---
---
More from this collection